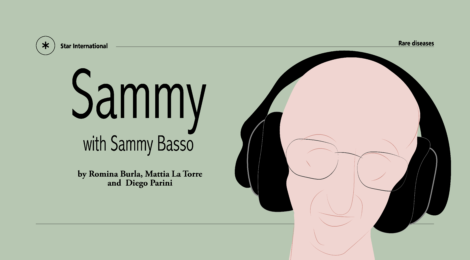 Thanks to his association Sammy Basso and desire to disseminate, he has made this disease known in Italy. From his experience in the world of research to his friendship with Jovanotti, who brought him to the stage of the Jova Beach Party with 60,000 people in front of him, we have made this journey through his perspective on research and the importance of studying rare diseases.
With Sammy Basso
by Romina Burla, Mattia La Torre and Diego Parini
What is the topic of research that most enthused you and that you think is important to develop?
As for laboratory experiences, I did two internships, in which I chose to study progeria. It was a subject that I was mainly concerned with… I had the opportunity to approach two different fields: the first concerning CRISPR/Cas9; I was participating in the research of Carlos López Otín in Oviedo, one of the first times a treatment was administered to an animal model ubiquitously, expanding the editing to all tissues. It was the first time I saw that we you could get a real cure for progeria. Not only to have drugs but also to be able to cure it in the future. The second time, in the Master's Degree, I studied with Giovanna Lattanzi; we were studying prelamin and progerin linked to interleukin-6, two proteins related to premature aging, and an interleukin linked to inflammation.
What was the most fun aspect of laboratory life for you?
Being a beginner, the thing that most impressed me beyond understanding the mechanisms behind everything, which might be more theoretical, is the relationship with colleagues. This relationship was significant because, as a student, I learned from them more than years of study. I was just learning and being together with people stimulated to do research.
What are the differences and similarities between the two laboratories where you have experience?
With Giovanna Lattanzi and Cristina Capanni, we have known each other for a long time, but I have not had the opportunity to work closely because of covid. On the other hand, with Carlos, who I consider one of my mentors in absolute, I did not know his PhD students. It was a very different experience. Carlos is one of the most important person in the university in which he works, and he has excellent skills. Here in Italy, it was the same thing, the level was very high, and I had to study a lot.
How can science help society?
I think it is essential. Science per se means knowable, cognizance, everything you can know. The human being is distinguished from other animals by two things: he can accumulate wisdom and feel more structured feelings. I believe that science is a fundamental pillar of society, we also saw during the covid in which dissemination was made, in an excellent way, but a lot of scientific disinformation accompanied it. There was a lack of science in people's daily lives. Lack of basic scientific preparation is no longer thinkable in our century. Science is vital for the progress of civilization and humanity. Still, it is also necessary because we now have all the knowledge to understand how the world turns. It is almost a moral obligation to be informed scientifically.
What is the importance of studying a rare disease?
It is very important – I speak as a scientist and not as a patient because, as a patient, I have every interest in the rare disease being studied. You must study it because it exists. After all, there are people behind it. I also asked myself this question: it makes sense to invest money, efforts, and years studying a disease that currently has 130 cases worldwide? The answer was not easy, and it came with the experience – as a good scientist – and I realized that it is worth it because progeria has so many pathways in common with other diseases. It is a great model for studying aging. This applies to all rare diseases. It is essential because it serves everyone and not just a few.
What do you think is the advantage of the relationship between patients-researchers-doctors-associations?
One important thing is to give a face to the disease, to show that beyond the disease, there are faces. Doctors certainly have direct experience of this, but researchers do not always. I think it is advantageous to encourage this aspect to increase involvement. It is also very important to bring the community closer, to make patients and associations speak, and give a face to the research that looks distant and closed in laboratories. One of the fundamental aspects for patient association is to act as a link between research and society, but it is not enough to have a disease to know it.
What message would you like to send?
The first message is the importance of research, our association's main focus. We were born for this and to raise money. We do this with different events because we want anyone to approach the search. For this reason, we have a salamander as our logo; being amphibian, it lives in the water and the earth; according to medieval legends, it lived in the fire of the chimneys. It is what we want to do to be versatile for every environment and bring this tiny seed. The second message is more personal as a patient: it is that a rare disease does not preclude a happy life worthy of being lived.
What about the Jova Beach Party?
It was absolutely awesome. Jovanotti is out of his mind, keeps jumping all day, and never stops. I do not know where he gets all this energy. It was great because we went behind the scenes; we could be together with him and the other artists performing. Jovanotti that already suffices, Gianni Morandi, Sangiovanni, and many others, it was strong to see that they tried and participated in the trials. The audience was powerful; there were 60 thousand people; I was a little scared! There was an incredible adrenaline rush, and when Jovanotti introduced me, I heard some crazy ovations from the audience, which was very involved. Very emotional. Then we entered the audience and enjoyed the concert from the other side. It was an exciting day from many points of view and in all senses.
Sammy Basso, Biologist, Progeria Italian Association Sammy Basso